It's funny how things come about when you are surfing a promo and seeing a page gives you an idea for a long over due blog post.  It's the best kept secret in TEland.
Most of you that surf know about the daily top award certificates from Cooperative Marketing Group that people collect each day for a chance of a grand prize each week.  Well here is what you didn't know – there is a splash page maker on the site.
If you surf as much as I do most of the time you see the same ole same ole ads all the time BUT once in while a page comes along that catches your eye.  This is the one that caught mine today and thought I'd share – I really don't know Lance Dressler and if anyone reading this does let them know he did awesome job on this page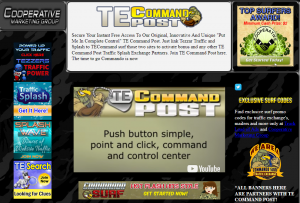 Now this is just a image of the page but if you click on the image it will open to the page.
Over the years, I have had alot of people ask me where can I make my own pages and I have to say the Sales Pages Maker is a place you should check out.    You just login to Cooperative Marketing Group and go to Sales Page Maker – there are alot of templates to choose from and then you can let your creative juices flow.
Here are a few other pages to share with you – login and make yours and I will make you an offer you can't refuse – send me your link to YOUR CREATION and I will give you free start page for the week at Zaney Clicks AND Hummingbird Hits – what a deal huh?  Click either of the images to see the full page – now show me YOURS