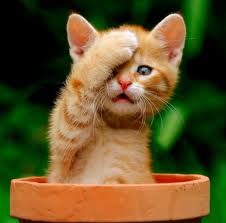 As I was working online today a few thoughts popped in my head and thought I would go over a few and see Are You Guilty too.
We have gotten into this fast pace world so much online that we don't seem to have patience anymore – we want it now, we want faster timers, we want, we want, are you guilty.  Well it's not easy to admit but I found myself falling into this trap and forget that life happens, things break, and there are humans behind these screens – not machines
As you all know, I'm a big surfer as I like to get the sites all over and do you log into a site and think to yourself wow that is a great offer – buy, buy, buy and the next thing you realize that you broke your budgeted amount you had put aside for the month – are you guilty.  Again, I am – I have come to the conclusion that I'm shopaholic – not that I go out to stores and spend, spend, spend but I sure like clicking that buy button especially if it's a great deal.  Will I stop – no – but I do have to watch closer on what I spend.
Have you spent hours surfing a site and are so excited about moving on to the next one because you have a set amount of time put aside in your schedule for surfing – then realize that you forgot to assign your credits, banner and text impressions – are you guilty – again I am and I think instead of going back right away and doing it I tell myself that I will do it the next time around – hmmmmm do you know how long my stuff is not getting seen because I didn't take the time to follow thru before I left the site – are you guilty
Well this one gets me all the time and I miss out on so much free advertising – when I do remember to assign everything – I still am rushing on to the next site that I forget about the bonus in the surfers rewards – are you guilty.  If you are like me, but the time you remember oh crap I didn't collect the surfers rewards – it's too late as the site has already reset for the day.
One more before I call it a nite – are you so waiting for the next set of icons to come up that you just glance at the site and then click.  Then are pissed at yourself when you get to the next page and it ask what was the site you just seen and you go oh crap – I just looked at that page and pick what you think you saw to come find out you are wrong – are you guilty?   You would not believe how many times I yell at myself – yea I said yell – you can ask my cat as he takes off to the other room – poor cat.
Well would love to hear how many of you will admit and comment on this one as all this is NOT easy for admit because in our mind we are superwoman and superman and can't admit to costly mistakes like this – are you guilty?  Well I was until tonight and thought – you know if I do these silly things – bet there are others.
Don't know about you but I have hard time shutting the brain down when I go to bed and thought of one more that is important.  When you signup at a new site and you are so excited about getting in there to click the required pages that you just check that box that says I have read the terms – are you guilty.  Yep me too and will even take it one step further – how about jumping to add your sites and start surfing that you don't even look the site over – the members page, the FAQ's page or even click any of the other buttons to find out about what the site is all about – are you guilty.  Yea this is hard one to admit but I have kicked myself in the hinder so many times later when I realize that I am missing out on some awesome features that the site is offering.