No I have not lost my mind – that is what I thought when I first heard the term Purple Cow.  But I just wanted you to think about it – Are You A Purple Cow?
What is a Purple Cow?  The purple cow is remarkable. It sticks out like a sore thumb among the other cows, it draws attention, and it's memorable.  If you have not read this book yet – then check it out here Purple Cow by Seth Godin
The reason for the post is for the affiliates that are using the same splash pages that 90% of the other members are using.  This is like playing the lottery to me – people surf and see the pages over and over and because it's in their face they may gradually click on it and your page just might be the one that they clicked on and you got a referral,
Now if you were a Purple Cow – your page would be remarkable – it would make those people surfing stop and look.  The Purple Cows in the world know the secret of getting more sales and more referrals.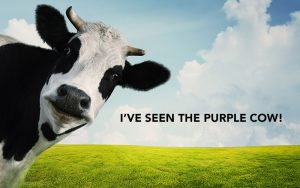 So before you put in your same ole same ole affiliate page – think outside the box and create your own.  Oh I hear you as you don't think that you are a designer, you don't know how – well I didn't either and still am not a designer by all means – but I do like something different.
Where can you make your own free pages on sites like Easy Hits 4 You and Click Voyager.  If you are looking for the site that offers lot of templates for your designing skills, then I would recommend AdKreator.  As a free member, you can create one and they will host – if you want to make more than one you will need to upgrade.
So in closing, I would like you to think about your advertising and ask yourself are you a Purple Cow.  If you aren't getting the results that you are looking for – try some remarkable – stick out from the rest.